In 1966 Sergeant Chay Blyth teamed up with Captain John Ridgway for a daring adventure. The plan was for the two paratroopers to row across The Atlantic from North America back to Europe.
In preparing for this remarkable voyage both Chay and John Ridgway were unfazed by Chay's lack of sea experience.
The vessel they chose was a 20ft open dory built in Bradford.  Some practical alterations were made to the dory for the adventure at Aldershot but important improvements were made in Cape Cod on advice from experienced fishermen who knew the treacherous Grand Banks which they would have to cross in the early stages of their daring voyage. Critically the gunwale was raised 9inches and the vessel was strengthened with oak.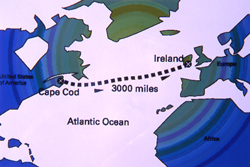 "English Rose III" left Orleans near Cape Cod on 4 June 1966 to a rapturous sendoff by a crowd of some thousands.
During their epic journey they braved two hurricanes, vicious storms, huge waves, whales bigger than their boat as well as fatigue and rations that were eked out as a result of damage caused Hurricane Alma.
After 92 days at sea and around 3,000 miles later, they reached the Aran Islands off the Irish coast in gale force conditions.
Their initial reception in the small fishing village of Inishmore was bewilderment and then the crowd realized that they were watching history being made and gave them a rousing Irish welcome.
Later they received an unforeseen euphoric chaotic welcome home.  Chay Blyth was awarded the British Empire Medal which was presented by Her Majesty The Queen.