Chay Blyth was born in Hawick the youngest of seven children, two brothers and five sisters. It was a given that when old enough all of the children would end up in the mills. They did have a choice, either a tweed or knitwear mill!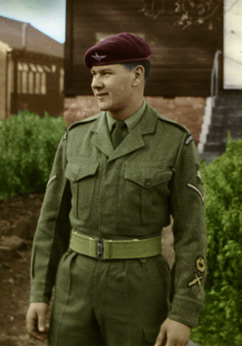 It was very much a blue collar family and they lived in a council house in the west end of Hawick, this was an area that set themselves apart and had the nickname of 'Guitterblood' or 'Westender'
Chay's education got off to a good start. By the time he was 12 he was a good swimmer. He soon emerged as a strong competitor ending up as he likes to brag, swimming for the South of Scotland. Actually he was a reserve and only achieved this when someone went sick just before a competition got underway. It was his only time to have this accolade.
He did however manage to come third in the Scottish Borders Championships ending up training three times a day on weekdays. It was at this juncture that his education took a back seat to the swimming. It was only years later did he realise the strain that he put on the families' financial resources. To attend the swimming baths in those days meant paying an entrance fee. There was a discount for swimming club members but three visits a day translated into a lot of money.
At the age of fourteen, Chay became a 'butcher's messenger boy'. His deliveries were after school for an hour when he would take the various orders loaded in the basket on the front of his message bike. At busy periods such as Christmas and local holidays he would work overtime plucking chickens with an electric plucking machine.