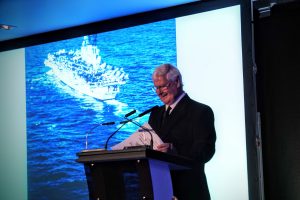 Sir Chay is a popular speaker at events worldwide. He draws upon his experiences and adventures to inspire, entertain and motivate his audiences as he describes in great detail the challenges and achievements of his incredible life.
His unique experiences make him the perfect choice if you are looking for a speaker on any of the following areas:
Teamwork
Leadership
Motivation
Marketing
Sponsorship
Following a presentation at Marriott International's 2015 Caribbean & Latin America leadership conference, Andrew Houghton, Area Vice President wrote this…
… your presentation achieved the highest score amongst all the speakers. As a team, we were impressed about your ability to link the key messaging of "Navigating your Success" with a relevant, witty and extremely pertinent message. Clearly your experiences resonate as well today to the X & Y generation as they have throughout your long career.
Read his whole letter here: Letter from Marriott International
Chay spoke at a Charity Dinner held by the Tall Ships Youth Trust in February 2013.
Our Black Tie Charity Dinner was to celebrate our 100,000th trainee and the launch of our new Fellowship and we'd invited major funders and charity supporters from all over the country to join us so we wanted this to be a very special occasion. We were absolutely delighted when Sir Chay Blyth kindly agreed to be our Guest Speaker – and there's no question that we sold every seat because he was going to be there. On the night, Chay was wonderful. He was an absolutely charming guest and his speech hit just the right spot covering a range of adventures at sea from rowing the Atlantic to sailing "the wrong way" round the world. He had our guests spell-bound and entertained in equal measures! We raised £30,000 from the event and people left saying it was one of the most entertaining evenings they'd ever had. Thank you Chay.

Chris Law, Chief Executive, Tall Ships Youth Trust
Complete this form to enquire about bookings.